By Robert Price New Jersey Herald
Posted: May 9, 2019 12:01 am
In an age when tribute bands enjoy unprecendented popularity, don't expect the Bovine Social Club's performance of the art of Tom Waits to be a tribute … or God-forbid, an imitation. "Even if we wanted to pay tribute to Waits, the man, or imitate him, his complexity is daunting, not to mention his gravel and glitter. So that would have been foolish," said BSC's frontman, Samuel Saint Thomas, in an email. "What we did set out to do was take a journey into his lyric mind to see what we could find. We want to make his songs and poetry our own, to express what they mean to us, maybe even find something out about ourselves if we're lucky. So it's about the works of Waits rather than the man. The songs we've picked out will span his career and be woven together with Waits' poetic tidbits and stories and stand on its own as a cohesive show," Saint Thomas said.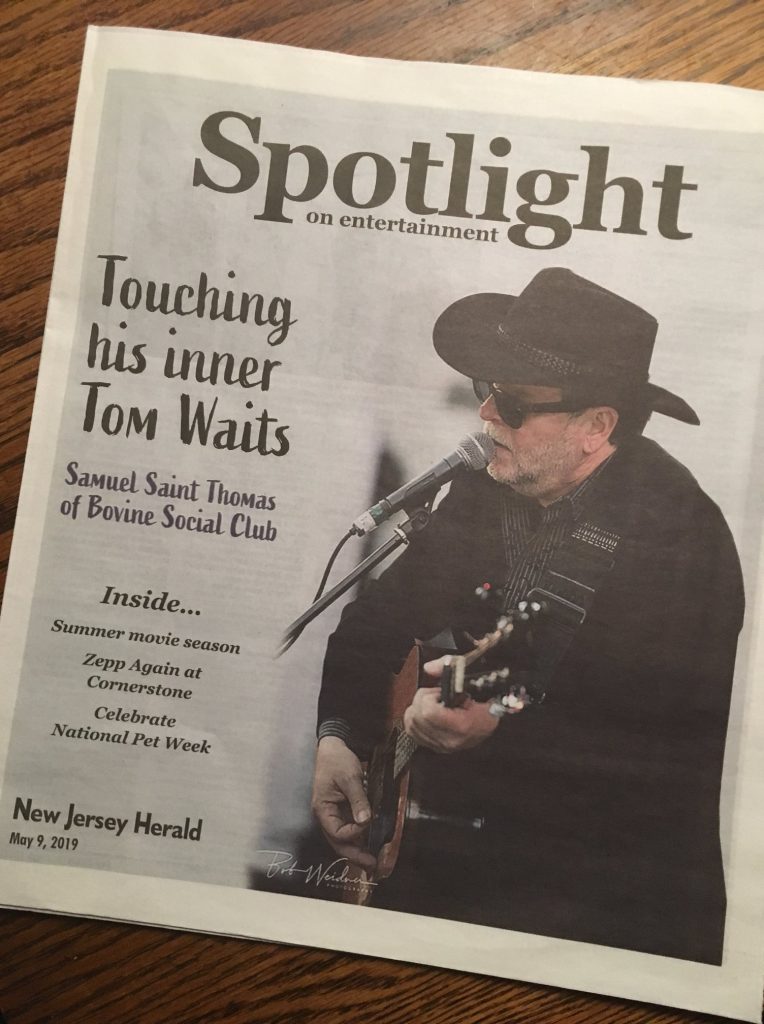 The Bovine Social Club will perform "Clap Hands" — The Poetry and Music of Tom Waits at Roy's Hall in Blairstown on Friday, May 17, at 8 p.m. The show is named for a song on Waits' 1985 "Rain Dogs" album. Saint Thomas first performed the Waits show in 2011 at the Deer Head Inn, a jazz club in Delaware Water Gap, Pa., where his roots rock band still "trespasses" from time to time. He waited seven years to do it again, and now BSC is taking the show on the road, starting at Roy's. Bovine Social Club, which officially formed shortly after the first Waits show, has included Waits songs in its set for years, nodding to his profound lyrics in nearly every one of their shows since 2012. The Bovines will creatively mine Waits' poetry, lyrics, obscurities and oddities, interpreting and performing them in their unique Americana style.
Saint Thomas and fiddle player Casey McGinty, who has years of theater experience, decided on a whim last fall to try to develop a new Waits show.
"Casey put some deep study into his works," Saint Thomas said. "We really wanted to jump out of our comfort zone and create an adventure. Waits music was just the thing." Bassist Rob Baumann, another Waits fan, was onboard right away. Joining the group at Roy's Hall will be Waits devotees Damian Calcagne on lead vocals and piano and singer-guitarist Jesse Bardwell, formerly of Quimby Mountain Band, who has recently been touring with Steve Forbert. Rounding out this version of the band are Tyrant Taylor on lead vocals and accordion, Steve Shalit on guitar and A.J. Jump on drums.
For the uninitiated, Tom Waits is a singer, songwriter and actor with a deep, gravelly, sometimes indiscernible voice, and a lyrical affection for society's gutter. His first two albums, "Closing Time," in 1973, and "The Heart of Saturday Night," in 1974, along with "Heartattack and Vine" from 1980, remain his best known works, but he has recorded more than 15 albums and maintained a devoted cult following. He was inducted into the Rock and Roll Hall of Fame in 2011. He has appeared in nearly 40 films.
Bovine Social Club hit the ground running about seven years ago when their debut album, produced by Tim Carbone of Railroad Earth, reached No. 7 on both the Roots and Americana charts. They've been touring stages across the Northeast ever since, performing their unique blend of folk, bluegrass, country, gospel, even Celtic music. Along the way, BSC has played Bethel Woods, Bethlehem Musikfest, The Newton Theatre, Sherman Theater's Summer Stage, Godfrey Daniels, the Bluebird Cafe in Nashville, Sellersville (Pa.) Theater, New York's Rodeo Bar, Back Fence and Irving Plaza, Black Potatoe Music Festival and the Stanhope House, to name a few. BSC's most recent release is "Live at Mauch Chunk Opera House," recorded in 2017 at the legendary vaudeville venue in the historic town of Jim Thorpe, Pa., with their friends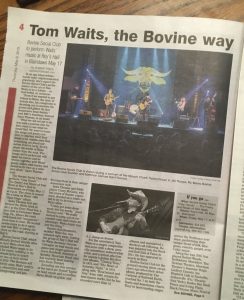 from Railroad Earth.
The group, which has had a revolving cast of characters over the years, led by vocalist, philosopher, memoirist and former Franciscan brother, Saint Thomas, is influenced by an equally diverse cast of characters — Bill Monroe, Bob Dylan, Jerry Garcia, Hank Snow, Johnny Cash, Hank Williams, Hayes Carll, John Prine, Townes Van Zandt, Iris Dement and Lucinda Williams, to name a few. But for Saint Thomas, thingschanged when he heard Tom Waits. "I'd heard some of Waits' hits such as 'Downtown Train' and 'Jersey Girl' done up by Rod Stewart and Springsteen. So being a budding songwriter I went looking to see who this Waits cat was. "And when I heard 'Chocolate Jesus' I went down a hole, partly because I'm a recovering Catholic and even more so because Waits has all the shades of a sweating Pentecostal preacher, romancing the microphone with the hazards of sin and risks of salvation," said Saint Thomas, whose father was a Pentacostal preacher (and loved ragtime-jazz pianist Jelly Roll Morton).
Saint Thomas, who is based at Shawnee-on-Delaware, Pa., is the constant in an ever-changing landscape of players. "Over the years the ensemble has continued to morph," he said. "As usual, things change. Life happens. People have kids, go back to school, move away. Then new and excited folks join in. But the vision remains: To write and perform music in a style informed by our common American folk traditions."
Saint Thomas has never met Tom Waits, or even seen a Waits performance live. So what would he do if Waits showed up at Roy's Hall on May 17?
"I'd say 'step right up. We've been waiting'."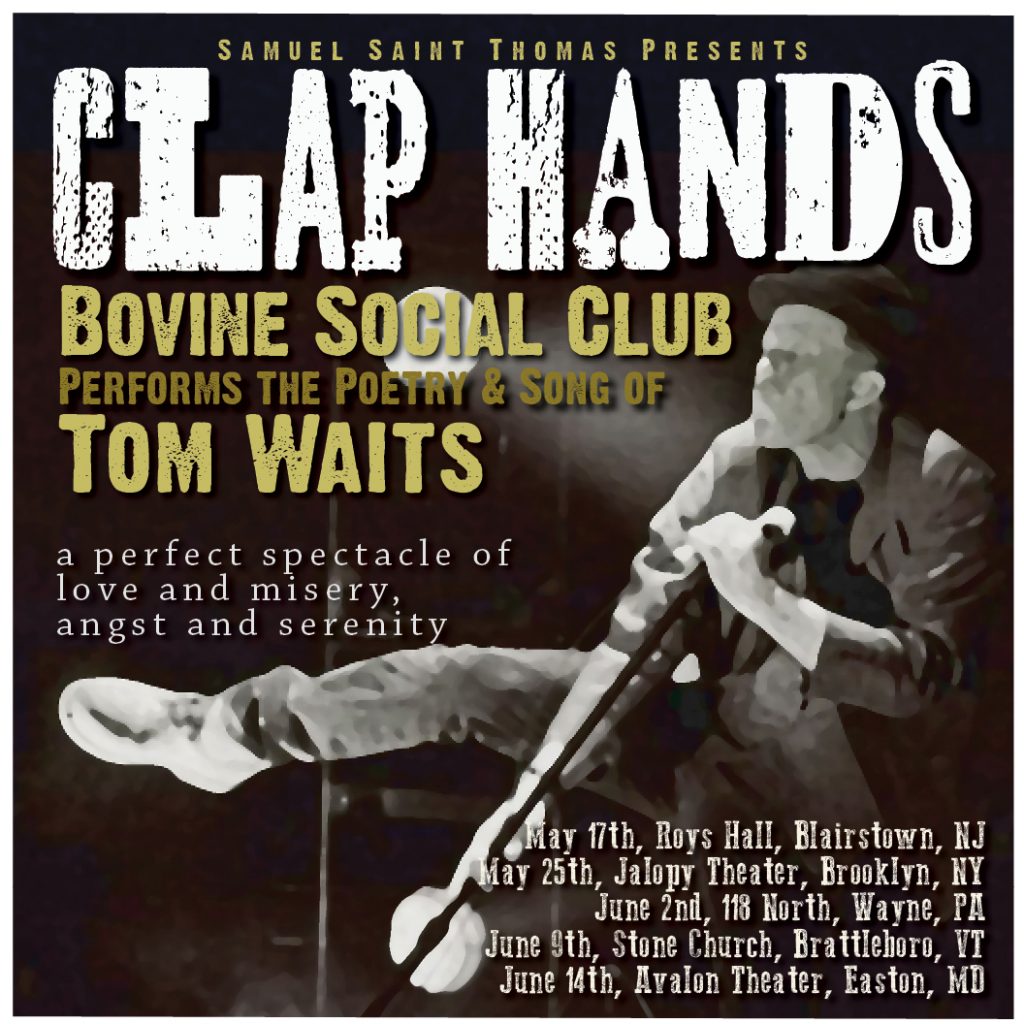 ---