From the birth of the Bovines eight years ago, we set out to make art: stories framed in rhythm and melody. And art, to my mind, must be free of constraint. I'm thinking today of the writer Virginia Woolf advocating for a "room of one's own." Artists need a physical place to make art, yes. But what we really need is a place of social isolation, sound proofed against biased expectations of what it means to make music. A place free of undo ego, competition, jealousy, stereotypes, and the oh-so-ubiquitous rock star delusions and posturings. In other words, a place apart from the "long plastic hallway where thieves and pimps run free," as Hunter S. Thompson so fondly characterized the music business.
But to be artistically free calls for radical ideas, for the rejection of herd mentality and the same-ol same-ol. Art needs a thoughtful audience, so we have side-stepped bars for listening rooms from day one. Where there is no music scene, we rent a room and create our own. To date, we've invited hundreds of musicians to share our stages and paychecks. Rejecting the effortless top forty set list, we tell our own stories and dig for the rare. Few gigs? We travel! CD's sales on the decline? We're looking for new ways to share our art. True art was never really about factory product anyway, was it?
And maybe you've noticed how our ensemble changes by season and project. Every guest who joins us for a run of shows loves it! Our Tom Waits "Clap Hands" tour was a wild success–pure art of the highest kind, celebrating the genius of a great artist. Every night up there we knew we were making cool shit. That was exhilarating! The Waits experience has informed our art and is now part of our musical DNA. Stay tuned for more on that!
Another idea Virginia Woolf promoted was that an artist needs subsidy. Rent money. Food for the energy to create. Art, unlike commerce, has always been subsidized. Writers, musicians, dancers either embrace the business mantra to focus on product and profit or create art by the goodness and support of those who believe creativity is spiritual air.
Bovine Social Club is different. But thinking differently is a challenge. Tomorrow, we head out for the first of a great five-state run of seven concerts that pay less than what they cost to produce. Without the subsidy of our patrons, our art would not be in parks, cabarets, barns and theaters. Our patrons are our heroes! Our artistic family! Visit The Bovine's Patreon Page right now and see how you can be part of the family that is putting our stories, melodies and rhythms on the road for Songs. Love. Summer.
See ya soon! Samuel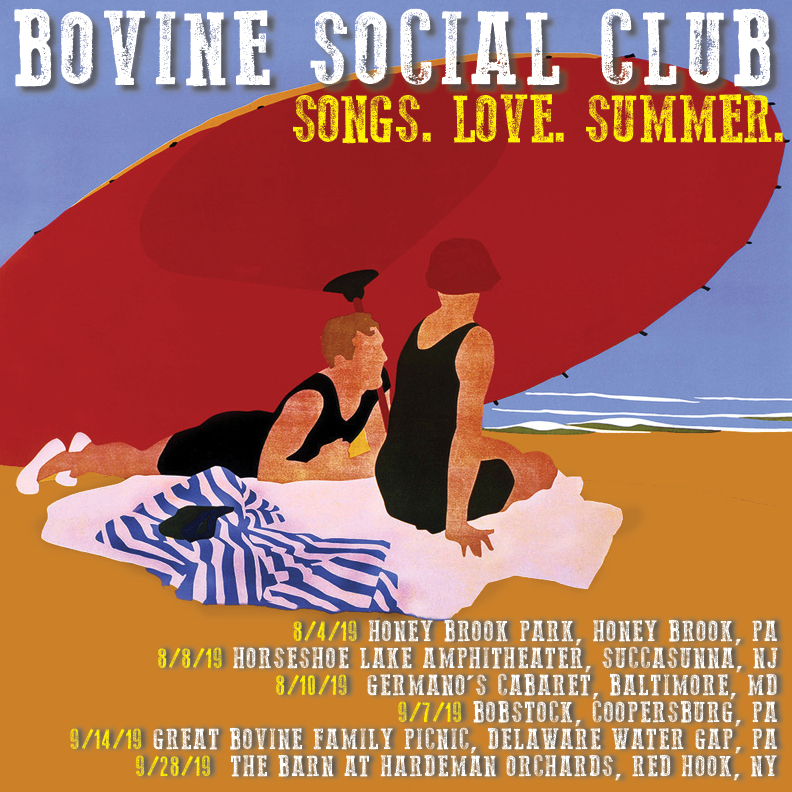 ---